Xin Cube Home > Articles > Xin Inventory 2.0 - Network Enabled (Multi Users) Invoicing Software with Inventory Control
---
Xin Inventory 2.0 - Network Enabled (Multi Users) Invoicing Software with Inventory Control
Date : 05.02.13

Network enabled Xin Inventory 2.0 for multiple users accessibility is ready on market. It is a complete set of billing software that meets most of the business requirement.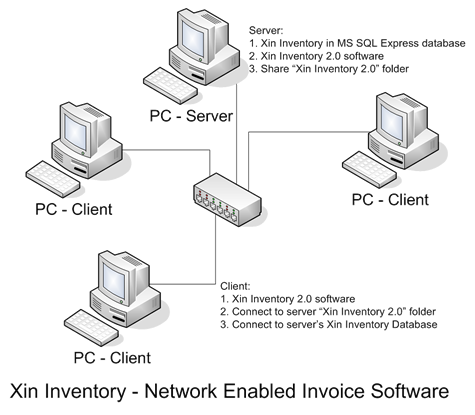 Xin Inventory 2.0 architecture is very simple. You will need to have a server to store the database. The setup will install MSSQL Express 2008 R2 which is stable and free database into server (any PC can work as server). During the installation, you will have an option to installed the program as "Server". After this, install Xin Inventory Client to other PC that is located in the same LAN. With some simple configuration you will be able to point the client to the server's database.

As Xin Inventory 2.0 supports multiple users accessibility, security control is essential. You may assign the users into different user group and each user group has its own accessibility right. You can block certain group of user to access to certain modules.

Another highlight for Xin Inventory 2.0 is the opened database. Xin Inventory 2.0 uses Microsoft SQL Server and it is fully under your control. You may install any third party reporting tools and connect to Xin Inventory 2.0 database to generate any type of reports which is not available in Xin Inventory program.